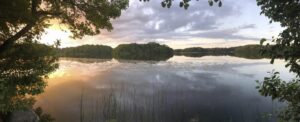 SUP & BootCamp Häckeberga, 4-5 september 2021
 – I samarbete med RA Äventyr & Utveckling & Weberg OutdoorTraining
Häng med på en härlig helg med SUP-paddling & crossfit-inspirerad uteträning vid natursköna Häckebergasjön i Skåne.
Vi övernattar i tältkåta, lagar mat över lägereld och badar vildmarksbad i vedeldad badtunna.
Alla aktiviteter (inkl badtunnan) är givetvis frivilliga och ni väljer själva vad ni vill vara med på. Vi befinner oss i vacker natur med underbara omgivningar som inbjuder till både vandring, löpning eller bara avkoppling.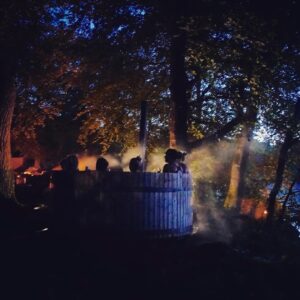 Ungefärligt schema (tider är ca tider)
Lördag
Vi samlas kl 10.00, installerar oss i lägret och njuter en kokkaffe innan vi startar dagens aktiviteter.
Pass 1: Bootcamp-träning
Kl 12.30 Lunch vid lägerleden
Pass 2: SUP. Vi upptäcker Häckeberga från vattnet och det blir njutfull paddling runt sjön.
Pass 3: Bootcamp, skogspass
Badtunna. Efter en välförtjänt dag med massor av härlig träning är det kroppens tur att koppla av med ett skönt bad i den vedeldade badtunnan.
Middag vid lägerelden. En grillkorg och med läckra tillbehör som vi själva grillar över elden.
Resten av kvällen kopplar vi av och njuter vid lägerelden. Det finns även möjlighet till kvällspaddling för den som önskar. 
Söndag
Kl 08.00 En rofylld SUP runt sjön (eller morgonpromenad/löptur för den som vill)
09.00 Skogshuggarfrukost
Efter frukost packar vi ihop våra saker och avslutar med ett Bootcamp pass. 
11.00 Bootcamp pass
ca 12.00 Hemfärd
Investering:
2995:-/person (2495:- om ni har egen SUP-utrustning inkl flytväst och våtdräkt)
Boka tidigt rabatt! Boka före 15/6 och få 15% rabatt!
I priset ingår: All träning och SUP-paddling med instruktör, SUP utrustning inkl flytväst, våtdräkt och våtskor, övernattning i gemensam tältkåta (med bra avstånd till varje madrass) eller hammock, vildmarksbad i badtunna, alla måltider (ej dryck).
Ni tar själva med: kudde och sovsäck, dryck till kvällen (och vatten för 1 dygn). Sovsäck finns att hyra på plats (100:-) om man inte har detta (meddela i samband med bokning).
Har du aldrig testat SUP men älskar träning och friluftsliv och vill hänga med? Hör av dig så får du, efter att du bokat in dig på SUP BootCamp, gå en nybörjarkurs till halva priset (275:-).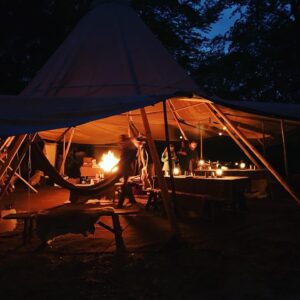 Anmälan
Anmälan via mail till: maria@havsgymmet.se
I anmälan uppger ni för- och efternamn, adress, mobil nr, önskad storlek på våtdräkt, våtskor och om ni vill hyra sovsäck/hammock.
När ni anmält er kommer vi att skicka ut en faktura via mail som ni betalar omgående för att säkra er plats. Märk betalningen med "SUPcamp". Anmälningsavgiften är 1000:-
Slutbetalning (via faktura) skickas i mitten av augusti. Märk betalningen med "SUPcamp".
Anmälan är bindande
Avbokningsregler
Avbokning mindre än 30 dagar före eventet – endast återbetalning (50%) mot uppvisande av läkarintyg, annars ingen återbetalning. 
Vi förbehåller oss rätten att ställa in eventet vid för få anmälda. Hela summan inklusive anmälningsavgiften återbetalas då i sin helhet.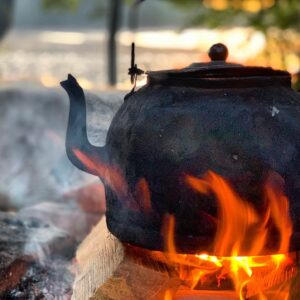 Övrigt: 
Ta med eget vatten för ett dygn (och en vattenflaska till träningspassen), sovsäck (finns att hyra), liggunderlag, pannlampa, kläder efter väder (vi sover ute i tältkåta), ombyte, handduk, badkläder, dryck till måltider och till badtunnan. Powerbank om ni vill ladda telefonen.
Det finns ingen el eller vatten i lägret, en torrtoa finns.
Kursledare
Maria Dahlberg är f.d polis som sadlat om till SUP instruktör och som sedan fem år tillbaka driver företaget Havsgymmet. Maria är certifierad ISA och Paddlefit instruktör och har stor erfarenhet av SUP-paddling och friluftsliv.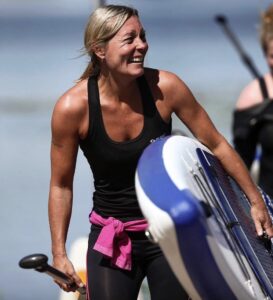 Maria Weberg är lic. personlig tränare och driver företaget Weberg Outdoor Training i Lomma. Hon brinner för träning ute året om och utövar själv crossfit och löpning. I Häckeberga hämtas inspiration från detta men också med inslag av military training.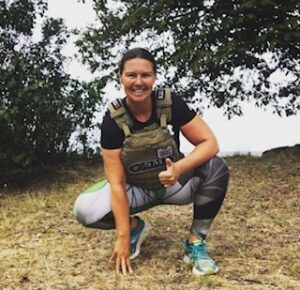 Varmt välkomna!
(bilderna tillhör RA Äventyr & Utveckling och är godkända för publicering)
SUP & surf retreat Sardinien, OBS resan är framflyttad till 2022 
– I samarbete med SUP Adventures.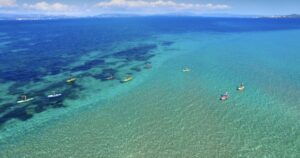 Day 1:
Arrival at Cagliari airport Transfer and ferry to Carloforte Check in Hotel
Dinner at hotel's restaurant.
Day 2-3, 5-7:
– pick up 10 am from the hotel (pick up time can be changed depending on weather conditions)
– transfer to the beach
– stretching and heating for the session
– sup session briefing
– departure
– arrival at another bay
– packed lunch
– chill and relax at the beach
– back to the hotel with chance to icecream pit stop in town
– dinner every night in a different restaurant that offers you a menu with a speial price for our guests
Last night we'll organize a special dinner for you at the hotel's restaurant!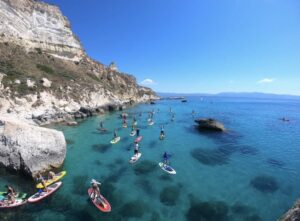 INCLUDED
– Sup Adventures membership card
– Transfer from/to Cagliari airport to Portoscuso
– Ferry tickets go/back from Portoscuso to Carloforte
– Transfer on the island for sup sessions and to the hotel
– 1 Tshirt and 1 sticker
– 1st and last dinner
– 7 Nights in hotel (DR) with continental breakfast
– Electric Bike for 1 day (day 4, day off from activities)
– Packed lunch with a variety between pasta/rice/salad/well stuffed sandwich plus fruit, juice and water
– Stand up paddle equipment including board, paddle, leash for the sup, sup wave & sup ball sessions
– Sup Surf equipment including board and leash for the sessions
– 1 sessions every day of sup tour/sup surf/sup ball/sup lesson depending on weather condition
– The right to use the discounted prices for dinners that Sup Adventures agreed with the restaurants
FULL PRICE: 779 €/person
EARLY BUY: 729 €/person to the first 6 people (valid until 30/04/2021)
Group size: max 12 participants
NOT INCLUDED
Other food a drinks are not included but that local prices are very reasonable .
Flights are independently booked by all attendees and instructors and are not included in the fare.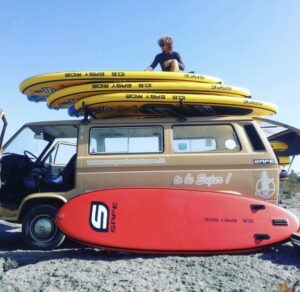 EXTRA SERVICE
Yoga, 6 classes, 60 €/person (minimum 6 persons)
Electric Bicycles 15 €/day.
E-bikes can be useful if you wish to be more indipendent as the hotel is located 3 km from the town center.
Private transfer 80 €/way
Wetsuit 50 €
ACCOMODATION
You will stay in Hotel Paola; A wonderful hotel, only 4 km north from town, surrounded by nature, peace, silence, many terraces where you can relax, read, do yoga, or stay in the sun, with a unique sea view!
They offer a transfer service all day and they have a very good terrace restaurant, where they offer us menus for 20/25/30 euros with typical food and our first and last night dinners with typical dishes from the Carloforte tradition.
From the hotel you can walk to the tonnara buildings, and to the sea with a 15 minutes walk.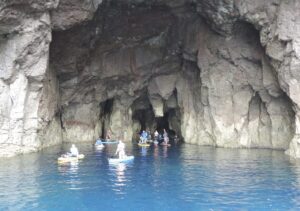 THE TOWN
San Pietro's Island, with the only town of Carloforte, is a 51 square km island in south west Sardinia.
For its volcanic origin, the island has wonderful rocky coasts in the north and stunning sand beaches in the south, with a diversity of the coast that amazes even those who have been living all their life on the island.
The coast; beaches, caves and cliffs
Along the island's south coast there are many wonderful beaches and along the north shore you'll see caves, cliffs, hidden coves, the lighthouse bay!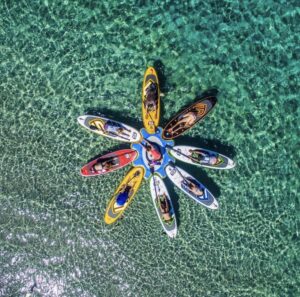 CULTURE & TRADITION
Rich of tradition and history too, the town of Carloforte was founded in the XVIII century, during the reing of King Car-
lo Emanuele III, by a colony of Ligurian fishermans coming from Tabarka island, in Tunisia, where they went to fish coral from Liguria in the XVII century.
That's why on the island you can still hear most of the people talking the Genoese dialect, and you can find typical dishes of Liguria ad pesto, focaccia, farinata. At the same time, the arabic period left some traditions too, for example in the coockery, with the typical Carloforte dish CousCous.
On the island there's one of the last tuna fishing factories of the mediterranean.
That's why another typical dish is tuna, coocked in tons of different ways and has a taste you'll never forget!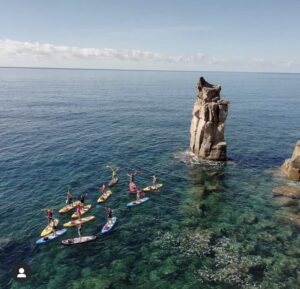 NATURE AND WILDLIFE
On the island there is a natural oasis where the Queen's Hawk, Falco Eleono- rae, comes every year from Madagascar to breed. This oasis is protected by the association LIPU that organizes tours to visit the hawk's nests, and obviously by the sea we can see them by SUP!
And than pink flamingos living permanently in the salt fields and most of all the RedTuna!
Carloforte is indeed the only place where you can still see the old traditional Tuna Fishing process, made as the fishermans did for centuries, that makes the island an icon for tuna tasting! In the ancient Ton- nara buildings, located in the north of the island, the Tonnare Diving Center Staff organizes guided tours of the factory and dives in the tuna nets…an unforgettable experience!
About SUP Adventures: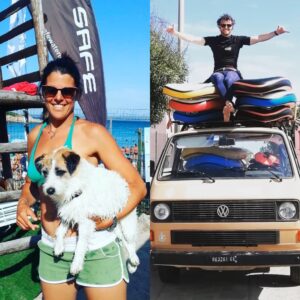 Sup AdventureS ASd
is a Stand Up Paddle and Surf association and school located in the wonderful San Pietro's Island.With our base at Caletta Beach, by Le dune Beach Bar, our qualified staff and ISA (International Surf Association) instructors organize daily SUP and Surf activities like Trips, Tours, Lessons and Board Rentals
This little island, located in south-west Sardinia, offers perfect conditions for Supping granting always a sheltered coast, and also surfing having waves for 200 days a year.
Our activities & our bases:
Sup Adventures offers a wide range of activities connected to Stand UP Paddle and Surf: classes, mini-courese for adults and children, yours, rentals, summer weekly and monthly camps for children, Sup pilates, Sup ball.
La Caletta Beach & Le Dune Beach Bar: the best beach of the island, scenary for breathtaking sunsets, were we stay from june to september from 10 am til 8.30 pm, with our qualified staff and ISA instructors (International Surfing Association) with baywatch licence, that will support you in all our activities.
Giunco Beach: located at 1,5 km from Carloforte, where we have our storaqge and practice children summer camps and sup pilates classes, being a very sheltered location.
SIGN UP BY EMAIL: maria@havsgymmet.se
(bilderna tillhör SUP Adventures och är godkända för publicering)
Resor